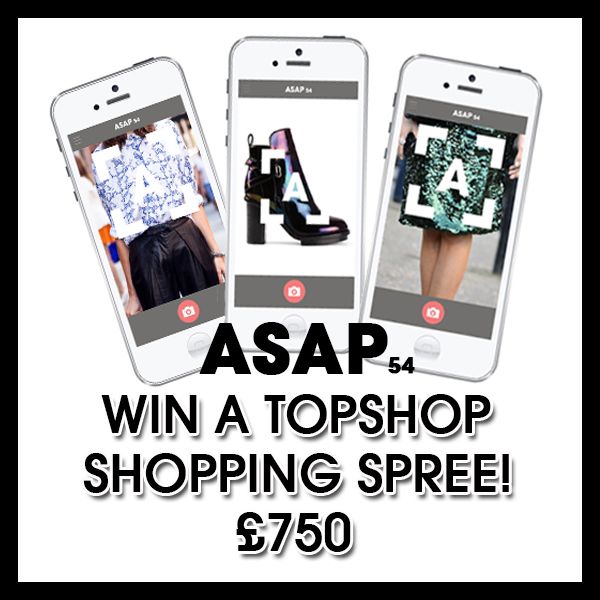 Ever seen an item on Instagram and thought you must have it, but have no idea how to find an alternative? Or seen an amazing piece of art and would love to own a skirt with the same print? Or even ordered an amazing superfood salad and wondered if you can get a top in the same colour? Enter the
ASAP54
app.
The new social network that allows you to discover and shop for fashion online, all with the use of just a picture, whilst following your friends and style muses inspirations and searches and providing a little help from a dedicated in-house team of personal stylists to bring you that step closer to the item you desire.
To support the release of ASAP54's new and improved social features they are offering you the chance to enter and WIN A SHOPPING SPREE WITH TOPSHOP worth £750 smackers!
To enter simply..
1) Download ASAP54 from the App Store on your iPhone.
2) Create an account with ASAP54 using email or Facebook.
3) ASAP something that inspires you, this could be absolutely anything, anywhere.
4) Email your username to digitalpr@etailpr.com and tell
ASAP54
over Social media, this could be any combination of Instagram, Twitter or Facebook, mentioning @ASAP54com. Remember to also let your followers know to follow your new
ASAP54
account and using the hashtag #ASAPit with a link to the
App Store
, using your personalised tracking link, so that they can download it.
Your personalised tracking link can be found within your account under 'Promotion' > 'Banners & Links' > searching for 'ASAP54'.
We aren't asking you to make a blog post on your own blog, but if you'd really like the app and would like to mention us in a post, then great! We are always on the look out for bloggers who love the app to work closely with us in becoming a featured Top ASAPER and brand ambassador.
For further details and full terms & conditions, please visit
your account
.